Every residence has an electrical system with a set of circuits managed and safeguarded by a set of circuit breakers or fuses. Most modern homes with electrical systems will have circuit breakers but homeowners without updated electrical systems may use fuses instead. The main service panel is typically where you'll find the circuit breakers or fuses for your home.
How Does a Circuit Breaker Work?
Circuit breakers are power switches that can be manually or automatically turned on and off. They prevent harm to an electrical circuit from excessive currents, as their name implies.
The location of your main service panel and whether or not your system employs circuit breakers are details you probably already know.
A "tripped" circuit breaker or a blown fuse is to blame when all of a room's lights and appliances suddenly go out. When an issue is detected, these devices are programmed to instantly cut power to the circuit.
The "fix" is to either replace the blown fuse or return the breaker lever to the ON position. The immediate solution in the case of circuit breakers is to locate the tripped breaker and return its lever to the ON position. Once a fuse has blown, it must be replaced because the metal filament inside has been completely consumed by the heat generated by the circuit.
However, you should also learn the cause of the tripped breaker or blown fuse to prevent the same thing from happening again. It's possible that the breaker could be damaged, in which case a repairman would have to swap it out. When a fuse or circuit breaker blows, it's usually just doing its job. Both circuit breakers and fuses are programmed to trip and cut power in response to one of four potentially catastrophic events.
Overloaded Circuit
A circuit breaker will typically trip due to an overloaded electrical circuit. It happens when a circuit tries to use more power than it has. Circuit breakers have an internal sensing mechanism that heats up and "trips" when too many appliances or lights are being used at once.
This interrupts the circuit's continuous path and shuts off the breaker. In order to restore power to the circuit, the breaker lever must be moved back to the ON position, which also re-arms the internal spring mechanism.
The load-carrying capacity of the wires in a given circuit determines the appropriate size of the circuit breaker or fuse. This is why the purpose of the breaker or fuse is to trip or blow before the wires in the circuit become too hot to safely handle. If your circuit breaker keeps tripping or your fuses keep blowing, it means you have too many appliances or devices plugged into that circuit. Alternatively, it could mean that your home needs more electrical circuits and a service upgrade. Typically, circuit breakers have an internal time delay of about 10 seconds before they trip when a circuit is overloaded.
Short Circuit
One of the more dire causes of a tripped breaker is a short circuit. The term "hard short" refers to the contact between the hot (black) wire and the ground wire or metal casing of an electrical device. For physical reasons, a breaker will trip when there is a sudden increase in current flow within it, as would occur in the case of a short circuit because of the free and unimpeded flow of electricity that is made possible by the reduced resistance.
A short circuit can occur for a variety of reasons. Consequently, short circuits can be challenging to identify and resolve, potentially necessitating the services of an electrician.
When a circuit breaker trips again immediately after being reset, it may be a sign of a short circuit.
Ground Fault
The term "ground-fault" refers to a specific type of short circuit that occurs when a live wire touches a ground wire, a metal wall box, or metal framing members. When ground faults occur in wet environments, like bathrooms or kitchens, or in the great outdoors, the results can be catastrophic. Shock is a real possibility when there is a ground fault.
In addition to taking measures to detect and repair a ground fault, it is crucial to take preventative measures to ensure that the problem does not arise again. NEC rules may mandate GFCI protection for outlets, for instance, in locations where they could come into contact with moisture or dirt (ground-fault circuit interrupters).
A ground fault, like a hard short, immediately lowers the resistance and boosts the current. This triggers the circuit breaker's internal mechanism to overheat and trip.
Arc Fault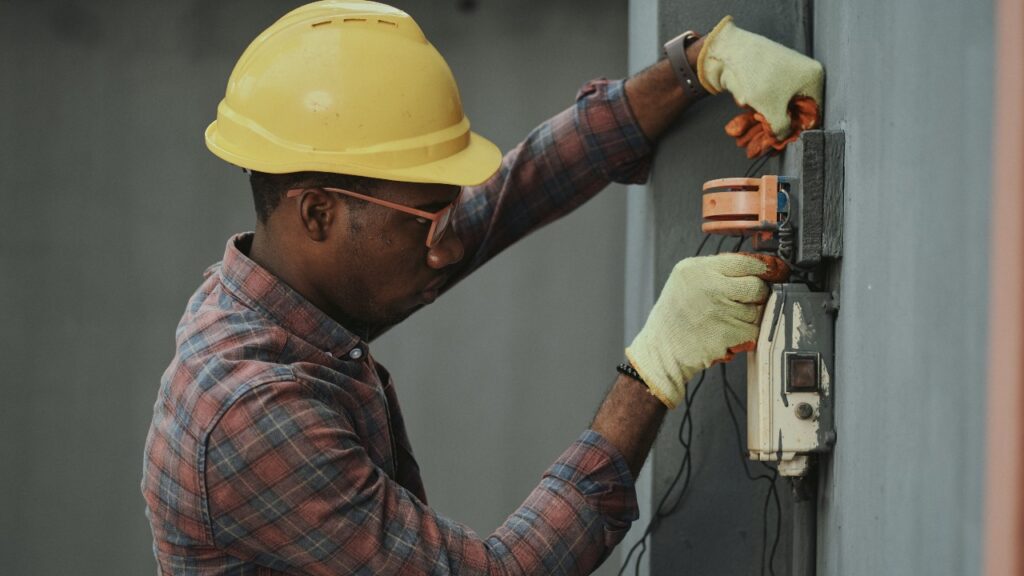 There has been a steady increase in the need for arc-fault circuit interrupters, a specific kind of circuit breaker, as a result of updates to the National Electrical Code, the model code upon which most local electrical codes are based (AFCI).
AFCI breakers can detect power fluctuations caused by sparking ("arcing") between contact points in a wire connection and trip the circuit if there is an overload, short circuit, or ground fault.
This can happen if, for instance, the screw terminal connections in a wall switch or outlet become dislodged. In other words, an AFCI breaker can detect minor wiring issues long before they become dangerous short circuits or ground faults. Regular fuses and breakers cannot prevent damage from arc faults. To prevent fires from arcing, arc fault protection is essential.